PATTI SMITH? - Gloria, ORIGINAL 1977 ITALIAN 45 SIGNED by Patti Smith! EX Vinyl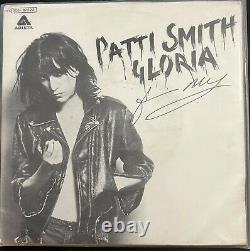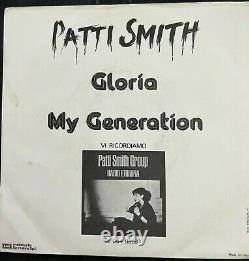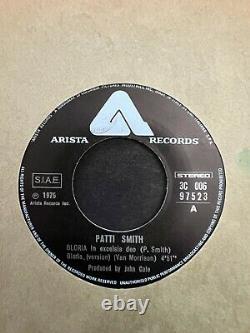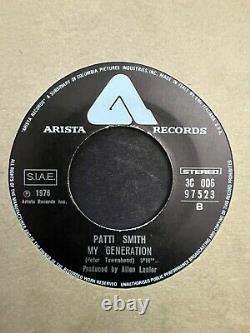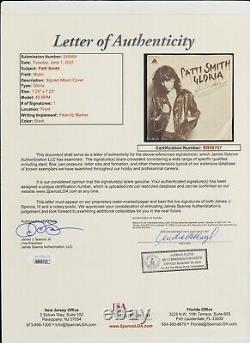 All signed items have COA. Original 1977 Italian Edition 45 is GLORIOUS! From the heart of a life-long music-lover...
Patti caught my attention in a big way with Horses, I saw her group in Hartford in 1976. I was already of her as the Rimbaud devotee punk poet which I was as well. I sought out her poetry books & it was Witt I first had her sign for me when I saw PSG & The Ramones at Providence College in 1978. But I already had a single sleeve signed by her at the time.
I saw an ad in the Village Voice & sent away to NYC for a copy of Hey Joe/Piss Factory. Cut to SF 1979 I talked to Patti after her spoken word gig at The Boarding House. Maybe I had her sign a book but I ended having the Frederick sleeve signed only by Richard & by Lenny. Patti added her signature years later at a comeback tour gig she did in Santa Rosa in 1996.
That's also where she elaborately signed the People Have the Power sleeve. In 1999/2000 Patti appeared at the SF Book Festival promoting her book of lyrics. She did a short set with Oliver then a big signing. That's where I had her sign the Gloria sleeve. When I presented the sleeve for the bootleg single sleeve of Brian Jones, performed with Lenny at her first performance at St Mark's in NYC, she maybe deliberately overlooked it.
But I let an excited black guy jump the line & asked him to get it signed. Patti dug his enthusiasm & signed it. I seem to have saved her earliest recording for last. We'd come full circle - Stephen Ronan. Music sounds BEST on vinyl --and this is a keeper, great condition!
Stephen Ronan is an artist poet musician who performed on KPFA and made recordings. With Don Joyce of Negativland. His new wave era band, the original Red Aunts. Performed in SF and Oakland and had local and widespread air play. Later band God Nose videos are pushing 100k views on YouTube.
An early Punk adherent, he became acquainted with many of the original figures. And hosted book parties at City Lights bookstore by David Byrne and Laurie Anderson. For a lark he began taking single sleeves to shows to get signed in 1978-98.
I would go to multiple shows a week often on the guest list. The singles offered here were almost all signed at shows at peak popularity. In person with cordial chats that sometimes led to hanging out. A life in music including study with Archie Shepp and others. Recognized for his poetry and his scholarship on the Beat Generation. Ronan compiled and published the first comprehensive annotated discography.
Of the Beat era, Disks of the Gone World in 1996. He produced 3 box sets on the Beats for Rhino and he. Was an historical consultant on The Source, The Beat Gen. Chuck Workman and appears in the film, which heavily.
Depended on his legendary archives which are credited onscreen. His radio programs were distributed on cassette.
By ARTWARE of Wiesbaden Germany. He Interviewed The Residents, Negativland and others for. For Mondo 2000 magazine in the 1990s. He delivered a paper at the Stanford Conference on Bob Dylan in 1998. Dylan management had the Conference professionally videotaped.
And it's available for viewing at Stanford library. PLEASE SEE THE IMAGE OF THE COVER, SHOWN ABOVE Note: the image shown is the actual album, shot just for this listing. We work to show you the entire cover, all seams and corners. NOTE: unless otherwise noted, ALL records are graded visually, and NOT play-graded!
We grade records under a bare light bulb or the Florida sunlight. No split seams - No cut corners - No saw-marks or indents - No writing in pen, pencil or marker - No stamps - No tearing: no chips, dents or nicks on the seams - No peel-off marks - No mold, discoloring or mildew spots - No water damage - No cuts, razor marks, lines, streaks, scratches, pressure marks. No warping or dishing - No paint, glue, wax or liquid drops on the cover - No RIAA stamps or stickers.
WE DO GREAT RECORDS AT GREAT PRICES! With friendly, hassle-free service too.. We use only authentic record mailers, and over-sized ones at that, to be sure no corners get damaged. --For Used Records: We remove the record from the cover, and place it in another jacket for the journey to your house. If your album has a custom innersleeve, we remove the record from it, and put it in a different, recycled sleeve for the journey to your house. --For Sealed LPs: We cover the sealed album tight in an older, recycled album cover, and wrap both in a plastic cover before taping securely in the over-sized mailer. ALWAYS A BIG PILE OF 50s-70s-80s PUNK / NEW WAVE, SOUL COUNTRY, BLUES AND REGGAE, ETC. Grading Scale: M (mint) Record is new, shiny, never played. A Mint cover would be flawless. M- (mint minus) Record is like new, probably played a few times, but it doesn't effect the quality of the sound. A Mint- cover would be nearly flawless, with only traces of wear. EX (excellent) Record in great shape, may have light marks, played more than a few times but little or no surface noise.
An EX cover would show light wear, but nothing major. VG+ (very good plus) Record has been played more times, it has more marks and surface noise, but no skips. A VG+ cover would show some wear. VG (very good) Record has been played many times, may be more surface noise, but it shouldn't skip while playing. A VG cover would look worn.
We sell neither junk nor junque. CHECK OUT OUR STELLAR FEEDBACK! PEOPLE LOVE US BECAUSE WE DO IT RIGHT! This item is in the category "Music\Vinyl Records". The seller is "mc2--mc5" and is located in this country: US.
This item can be shipped worldwide.
Artist: Patti Smith
Speed: 45
Composer: Patti Smith/Van Morrison
Record Label: Arista
Release Title: Gloria b/w My Generation
Case Type: Paper Sleeve
Color: Black
Material: Vinyl
Catalog Number: 3C 006
Type: Single
Format: Record
Record Grading: Very Good Plus (VG+)
Release Year: 1977
Language: English
Sleeve Grading: Very Good Plus (VG+)
Producer: John Cale and Allen Lanier
Era: 1970s
Record Size: 7\
Genre: Punk, Rock
Country/Region of Manufacture: Italy