Alter Bridge Signed Autographed Vinyl Record LP Creed One Day Remains Blackbird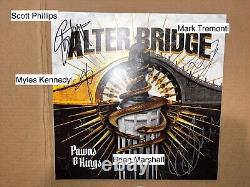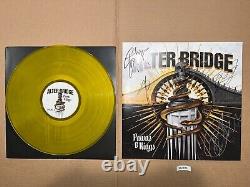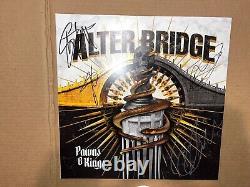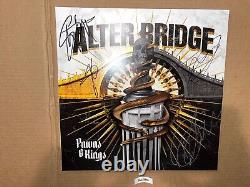 Includes vinyl record LP jacket hand signed by Alter Bridge (Myles Kennedy, Mark Tremonti, Brian Marshall, and Scott Phillips). Includes vinyl record LP of Pawns & Kings by Alter Bridge. Since 2004, ALTER BRIDGE has been one of the most consistent bands to successfully represent the rock and metal communities with their driving melodies, blazing guitar riffs and topical lyrics that resonate with fans around the globe. Their seventh album, Pawns & Kings, continues that trend with 10 unforgettable new additions to their catalog. Coming off the launch of what was shaping up to be one of the band's pinnacle moments with Walk The Sky, everything came to a halt as the world would forever be changed due to the events of a global pandemic.
The time the members of ALTER BRIDGE spent apart sparked a new fire and heaviness when the quartet comprised of Myles Kennedy on vocals/guitars, Mark Tremonti on guitars/vocals, Brian Marshall on bass and Scott Phillips on drums would reconvene for what would eventually become Pawns & Kings. Teaming with longtime producer and collaborator Michael "Elvis" Baskette, the album shines with massive, menacing arena-ready production while emerging as another sonic testament to the seasoned Kennedy/Tremonti songwriting dream-team. The band deliver three epic anthems, including two that clock in at over six minutes - the reflective and absolutely epic title track "Pawns & Kings", grim-riffed, progressive influenced "Sin After Sin", and the emotive eight-and-a-half minute journey Fable Of The Silent Son. " "Silver Tongue" is backed by a punishing intro riff that gives way to one of the band's most infectious choruses as Myles Kennedy sings, "Truth of a crime.
Songs like "This Is War, " "Dead Among The Living" and "Last Man Standing" showcase the heavier side of a band firing on all cylinders, with soaring leads, hair-raising vocals and introspective lyricism abound. Nearly 20 years into their celebrated career, one thing is for sure - Pawns & Kings offers a musical snapshot of a band that shows no signs of slowing down and continues to push itself creatively for the whole world to see.
This is unconditionally guaranteed to be authentic. You will receive this exact item pictured in this listing. This item is hand signed by Alter Bridge (Myles Kennedy, Mark Tremonti, Brian Marshall, and Scott Phillips). This item is not auto-penned, stamped, or a reproduction. Guaranteed to pass any third party authentication. This comes from a professional collector with a background in the music industry with over 20 years collecting authentic memorabilia. You must provide all documentation and correspondence between yourself and the authentication companies listed above. This item is the real deal.