Alice Cooper Signed Road Orange Vinyl Album Limited And Sold Out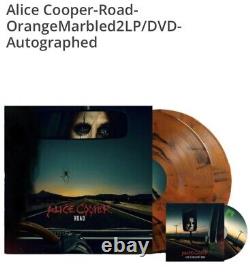 Insert Signed by Alice Cooper - Limited. The road will make you or break you. To survive it, you need to be as tough as asphalt and move fast enough to make the competition eat dust. Throughout 2022, Alice collaborated closely with the members of his touring band as well as long-time producer Bob Ezrin, putting together what would become his brand-new studio album Road.
You can feel the energy and lightness that the band brings with every riff and hear the story behind what inspired them. Bringing everything full circle, it channels the spirit of old school Alice with instantly recognizable grit and plenty of gusto.